wildlife.fair – the trade fair for Flora

Exhibition Centre Nuremberg
Weekday, xx to weekday, xx month 2022

Save the date to my calender
every year / every two years
xx Month 2022: xx:xx - xx:xx
xx and xx Month 2022: xx:xx - xx:xx
xx Month 2022: xx:xx - xx:xx
Meeting place of the Branche xy
Als Weltleitmesse für Hund, Katze und Maus ist die Messe xyz der Innovationsmotor der Branche: Über xxx namhafte Unternehmen aus über xx Ländern präsentieren hier ihre Produkt-News sowie zukunftsweisende Technologien, Komponenten und Elemente – seien Sie dabei! Mehr über das Who-is-who der Branche finden Sie hier (ask-Link).
The history of wildlife.fair and other facts about the exhibition
Im Jahr 2022 feierte die Messe xyz ihren xx. Geburtstag und blickte auf eine Erfolgsgeschichte zurück: 19xx begann alles mit xx Ausstellern am Messeplatz Nürnberg, rund xxxx Besucher kamen zu der damaligen Verpackungs-Ausstellung, die ab 19xx den Namen Messe xyz trug. xxxx Austeller und xxxx Besucher waren 2022 vor Ort. Das zeigt: Die Messe xyz ist eine der europäischen Leitmessen rund um das Thema xy. Ein Rückblick auf das Jahr 2010 macht Lust auf die Messe xyz 2022:
xx % der Aussteller erreichten ihre wichtigsten Zielgruppen.
xx % der Aussteller knüpften neue Geschäftsverbindungen.
xx % der Aussteller erwarten aufgrund ihrer Kontakte ein Nachmessegeschäft.
xx% der Besucher waren internationale Gäste, überwiegend aus Österreich, der Schweiz, der Tschechischen Republik, den Niederlanden, Italien, Polen, Frankreich, Slowenien und Belgien.
Highlights of wildlife.fair 201X
You'll be impressed by the success of the show. The review of Exhibition XYZ 20xx-1 includes impressions, videos and commentaries by exhibitors and visitors, in addition to a full show report.


Dies ist ein Formatierungshinweis
Es gibt auch die Möglichkeit, einen Text mit der Messefarbe hervorzuheben. Wir haben leider bis jetzt noch keine sinnvolle Verwendung in dieser Kopiervorlage gefunden, weshalb es nun hier beispielhaft verbaut ist.
Eventuell wäre dies im Rahmenprogramm einsetzbar.
Contact for exhibitors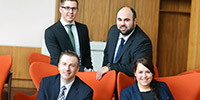 Your Exhibition Team