5 reasons for participating in wildlife.fair

You are interested in the latest developments from the world of Flora, Fauna and Habitat and would like to establish new contacts? Then you are in the right place at wildlife.fair! And there are even more reasons for coming to Nuremberg from 9 - 12 April 2022:
1. Argument 1!
Überzeugungs-Text Nummer 1
---
2. Argument 2!
Überzeugungs-Text Nummer 2
---
3. Argument 3!
Überzeugungs-Text Nummer 3
---
4. Argument 4!
Überzeugungs-Text Nummer 4
---
5. Argument 5!
Überzeugungs-Text Nummer 5
The perfect presence at the exhibition
How to get the most benefit from your attendance at wildlife.fair. Some handy tips and suggestions for exhibitors to help you to plan your attendance properly before you start.


Contact for exhibitors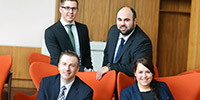 Your Exhibition Team
Application
You'd like to exhibit at wildlife.fair? All the important information is available here.
Application to exhibit
Information brochure for exhibitors
This contains all the important information you need as an exhibitor.
Download information brochure
Show Report 2018
Assure yourself of the success of the exhibition!
Download show report